Late Thursday night (September 30) in the Southeastern United States, anyone looking up could have seen a brilliant streak, descending into the Atlantic Ocean off the east coast of Florida. It was actually a SpaceX Dragon supply spacecraft returning to Earth after a trip to the International Space Station (ISS).
The Dragon, which flew to the ISS as part of SpaceX's 23rd NASA Resupply Mission (CRS-23), had been in space since August. He went to the ISS carrying several tons of supplies, equipment and scientific experiments for the Expedition 65 crew. These experiments included a student project at the University of Hasselt in Belgium and the very first contribution from the island of Malta to the ISS: probing the microbes inside the skin of foot ulcers.
Related: SpaceX Dragon launches large science transport to space station for astronaut health, plant stress and more
After more than a month in space, CRS-23 returned to Earth on Thursday. The capsule detached from the ISS at 9:12 a.m. EDT (1:12 p.m. GMT), as it flew over the Pacific Ocean. At 10:07 p.m. EDT (02:07 GMT Friday), the capsule triggered its engines to exit Earth orbit and begin its descent into the atmosphere.
Over the next few minutes, the Dragon crossed east over North America, leaving a luminous trail in its wake, visible from across the Southeastern United States. As it passed through Florida and Georgia, the Terrans could even hear its loud sonic boom. At 22:57 EDT (02:57 GMT), less than an hour after its first fire, it slammed down in the Atlantic Ocean.
From now on, SpaceX and NASA will work to recover the Dragon capsule and the memories it brought back from the ISS: several tons of equipment and the results of a few additional scientific experiments. Then, the reusable capsule will be cleaned and prepared for its next launch; already, this is the second time that this particular capsule has flown into space and vice versa.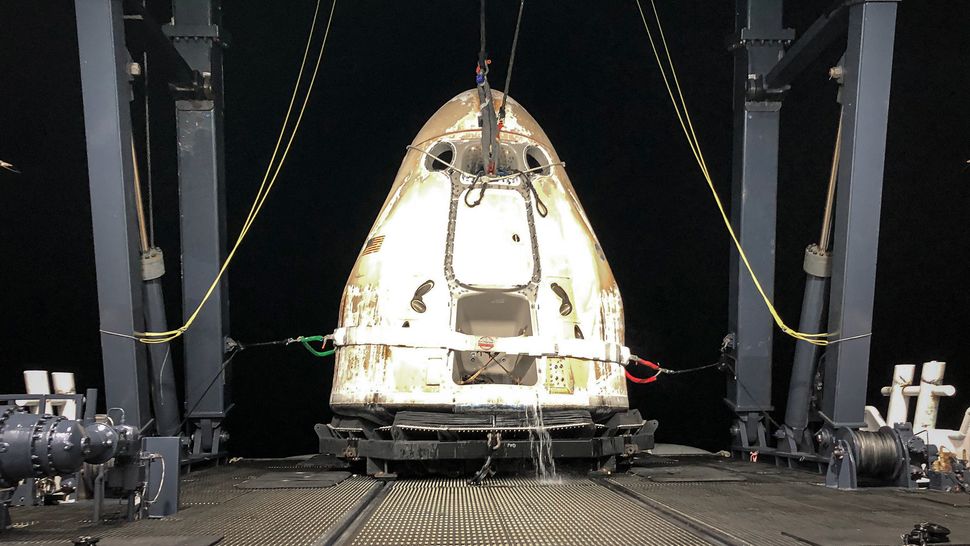 Follow us on twitter @Spacedotcom and on Facebook.