Researchers aim to create thriving agricultural systems in urbanized landscapes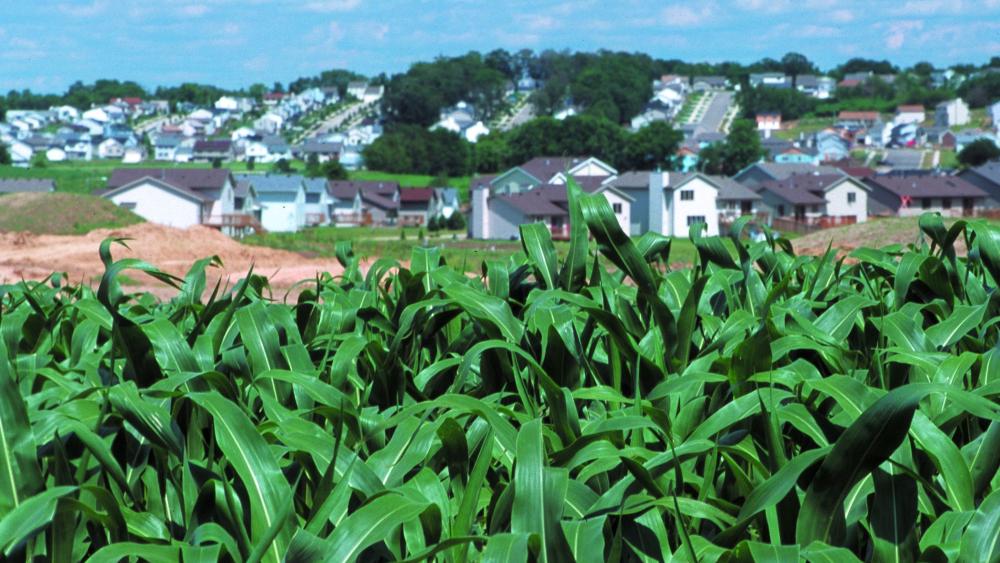 UNIVERSITY PARK, PA – Farming systems in metropolitan areas and adjacent non-metropolitan counties account for more than two-thirds of U.S. net farm income and 97% of Pennsylvania's net farm income.
But can food systems in these urbanized landscapes remain economically and environmentally sustainable in the face of development pressure and the perceived inconvenience associated with agriculture? A team led by Penn State College of Agricultural Sciences researchers are almost a year into a five-year study to provide answers to this question.
"Communities and consumers of urbanized landscapes value agriculture for locally produced foods, open spaces and landscapes, recreational opportunities such as agri-tourism and wildlife habitats," said the project leader. David Abler, professor of agricultural, environmental and regional economics and demography. "But the sustainability of agriculture in these areas is threatened by increasing competition for land and water from urban growth and sprawl, and by water pollution, odors from livestock, pests and dust from agricultural activities. "
Abler noted that the research team began with the hypothesis that economically sustainable and value-added agriculture in urbanized settings can be achieved while improving ecosystem services.
"The overall goal is to make this assumption a reality over the next 25 years, using the Chesapeake Bay watershed as a case study that can be translated into other urbanized landscapes," he said. declared.
Supported by a nearly $ 9 million grant from the U.S. Department of Agriculture's National Institute of Food and Agriculture, the team pursues this goal by addressing two goals at long term: increase agricultural production and productivity, and improve the efficient use of nutrients such as water, nitrogen and phosphorus.
Researchers employ a variety of methods spanning different disciplines to address multi-scale issues that influence the sustainability of agricultural systems in urbanized landscapes. At the field and farm level, these issues include nutrient management practices and technologies and the choices of crops and livestock to produce. At the landscape level, they include zoning and other land use regulations, agricultural land conservation policies, and urban development pressures.
Watershed-wide and regional issues include consumer and market demands for value-added agricultural products, nutrient flows in the watershed, nutrient exchange and nutrient credit considerations, and environmental policies. Agricultural policies and global market forces are national and global concerns that impact these farming systems.
As part of the project, researchers engage with stakeholders in a process of shared discovery and co-learning designed to envision the desired 25-year future for these farming systems. This includes scenario building exercises designed to identify how agriculture in urbanized areas needs to evolve to achieve these futures and what technologies, markets and public policies could help facilitate this evolution.
"Shared discovery is a collaborative process for researchers and stakeholders to explore the research design, findings, and decision support tools developed from the collective effort," said Abler. "This process provides opportunities for engagement and communication between researchers, external collaborators and stakeholders, treating everyone as equal partners. These communications help guide the flow of research during a project and directly link scientific research to solutions to real-world problems.
Abler explained that the project team is working with stakeholders to seek ways to increase productivity by expanding markets for local, organic and traceable food products in urbanized landscapes. Collaborative research is also addressing strategies for improving productivity and nutrient use efficiency through a suite of nutrient management tools, models and analyzes that will help farmers, land use planners, agricultural and environmental policy makers, and others.
Workshops are also planned for businesses along the food supply chain and for policy makers; online undergraduate and graduate courses to disseminate project methods and results; and extension programs to create a community of practice around agriculture in urbanized landscapes.
"We expect our stakeholder-driven approach to lead to rapid uptake of the project's research results, as they will address current needs and desired futures identified by stakeholders," said Abler.
Also participating in the College of Agricultural Sciences project: Jason Kaye, professor of soil biogeochemistry; James Shortle, distinguished professor of agricultural and environmental economics; Charles White, assistant professor of soil fertility and nutrient management; Edward Jaenicke, professor of agricultural economics; Matthieu Royer, director of Agriculture and Environment Center; Anil Kumar Chaudhary, Assistant Professor of Agricultural Education and Extension; Cibin Raj, assistant professor of agricultural and biological engineering; Yizao Liu, assistant professor of agricultural economics; and Douglas Wrenn, assistant professor of environmental and resource economics.
Members of the Penn State research team also include Caitlin Grady, assistant professor of civil and environmental engineering, and Terry Harrison, professor of supply chain and information systems. The other collaborators are from the University of Maryland, Virginia Tech, Ohio State University, and the Stroud Water Research Center.