Penn State agricultural research highlighted at Ag Progress Days tours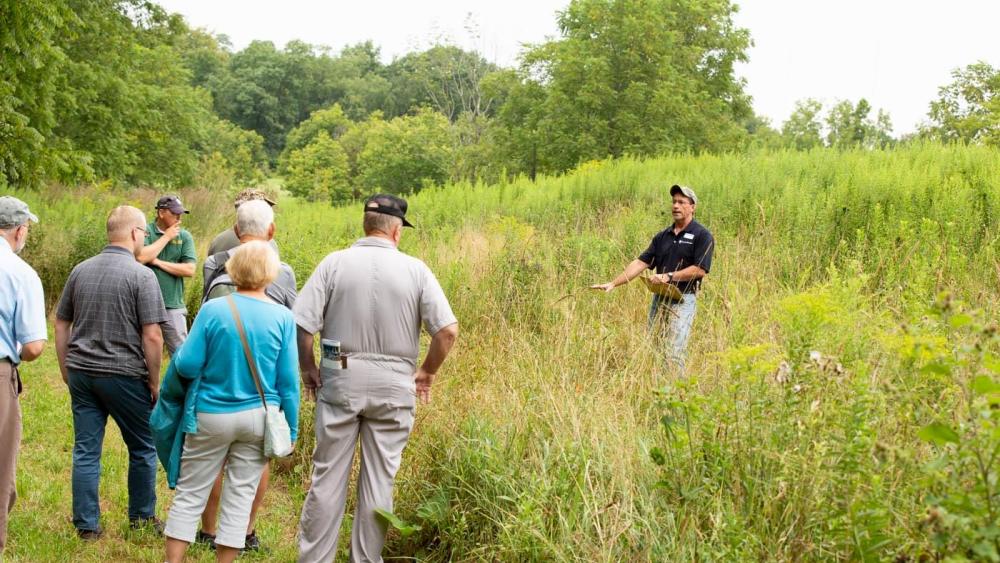 UNIVERSITY PARK, Pa. — A variety of research and education programs related to agriculture and natural resources will be featured on several tours that will be offered during Penn State's Agricultural Progress Days, May 10-12. August in Rock Springs.
The tours will bus visitors to locations in and around Penn State's Russell E. Larson Agricultural Research Center, a 2,000+ acre facility where researchers from the College of Agricultural Sciences conduct studies on the field by examining technologies and best practices in agriculture, conservation and natural resources. Those unable to attend the annual exposition can still get a feel for Penn State's agricultural research by viewing online virtual tours available anytime.
All in-person Ag Progress Days tours are free but require tickets, which can be obtained at the starting point at the Corn Crib near the top of Main Street at the show site. The tours, many of which involve walking or standing, include the following:
— Livestock pasture management with alternative fodder (1.5 hours). Producers will gain an understanding of the components of the pen fencing and watering system, the use of alternative forages for pasture production, and the evaluation of cover crop mixtures by examining root structure and indicators. soil health. High-density livestock grazing will be demonstrated with a small herd of Angus cattle, and experts will show how annual forages can be used to renovate degraded pasture without tillage. Buses depart at 12.30pm and 2.30pm on Tuesdays; 10:30 a.m., 12:30 p.m. and 2:30 p.m. Wednesday; and 10:30 a.m. and 12:30 p.m. on Thursday.
— Management of equine pastures and drylands (1.5 hours). This tour includes a demonstration using horses with hands-on activities in equine pasture. Learn about the do's and don'ts of sacrifice areas, the tools needed to help improve equine operations, grass and weed identification, innovative grazing methods and dry land design for horses on a limited area. The tour will depart at 12:30 p.m. and 2:30 p.m. Tuesday; 10:30 a.m., 12:30 p.m. and 2:30 p.m. Wednesday; and 10:30 a.m. and 12:30 p.m. on Thursday.
— Multifunctional stream buffers and native grasses (1 hour). Find out how planting and tending trees, shrubs and grasses to create a multi-purpose buffer zone can improve water quality, wildlife and pollinator habitat, livestock health and value. of the property, while providing edible or medicinal plants. Demonstration farming practices such as fencing and stream crossings will be exhibited. This tour departs at 11:30 am daily.
— Forest management: wood and wildlife (1h30). Explore the Penn State Demonstration Forest and gain valuable insight into how the woods are managed for timber production, wildlife habitat, water quality, forestry research, and education. Forestry and wildlife professionals will be on hand to answer questions. The tour departs at 11 a.m. and 2 p.m. daily.
— Habitat management for deer and other wild animals (1.5 hours). Learn how field and forest habitat management practices and food patches used on public or private property as part of a quality deer management system can improve conditions for many wildlife species while by producing healthier herds of deer that are in balance with their natural habitat. Buses depart at 9.30am and 12.30pm daily, with an additional tour at 3.30pm on Wednesdays.
— Crossbred Beef x Dairy Cattle finish (1 hour). This tour will cover the definition of veal x dairy calves and the current market for these cattle. Producers will see a load of cross-bred dairy steers being finished at the Pennsylvania Department of Agriculture's Livestock Assessment Center near the Farm Progress Days site. Buses leave at 2 p.m. on Tuesdays; 11 a.m. and 2 p.m. Wednesday; and 11 a.m. Thursday.
— Virtual research tours. Virtual tours highlighting farms at the Russell E. Larson Agricultural Research Center, related College of Agricultural Sciences research projects, and past Ag Progress Days research tours are available online and accessible anytime. Viewers can click here to learn more about the Penn State Horticulture, Agronomy, Plant Pathology and Entomology Farms, Grazing Systems and Management Research Unit Farm USDA watersheds at Rock Springs and Penn State research on hops, organic farming, industrial hemp, deer and other topics.
Sponsored by Penn State's College of Agricultural Sciences, Ag Progress Days is held at the Russell E. Larson Agricultural Research Center in Rock Springs, located 9 miles southwest of State College on Route 45. Hours are 9 a.m. to 5 p.m. on August 10; 9 a.m. to 7 p.m. on August 11; and 9 a.m. to 4 p.m. on August 12. Admission and parking are free.
For more information, visit the Ag Progress Days website. Twitter users can find and share information about the event using the hashtag #agprogressdays, and the event can also be found on Facebook (@AgProgressDays).