Agriculture and fisheries leaders inspired at conference to improve agriculture sector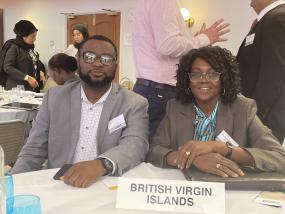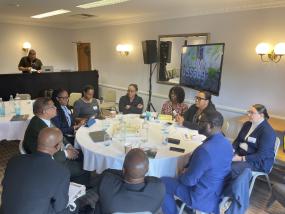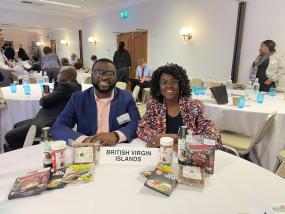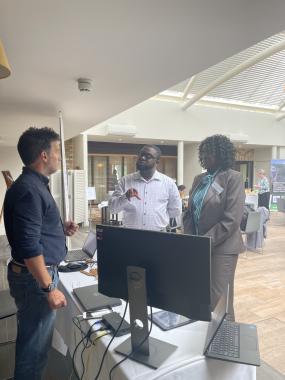 Collaborating with regional and international partners, improving data collection, making data-driven investments, and implementing structured agricultural programs are just a few key elements to improving the agricultural sector.
This statement is from the Permanent Secretary (PS) in the Prime Minister's Office, Mrs. Carolyn Stoutt Igwe, whose portfolio includes Agriculture and Fisheries.
The Permanent Secretary and Director of Agriculture and Fisheries, Mr. Theodore James recently returned from Oxford, UK, where they attended the 21st Review Conference organized by the Center for Agriculture and Bioscience International (CABI) from 27e – 28e September 2022.
Ms Stoutt Igwe said: "We have indeed come back with a greater zeal for the agricultural sector. The conference was a great networking opportunity and helped us better appreciate the work that CABI is doing around the world. »
PS said she was inspired by the capacity building opportunities offered by the CABI Academy, access to research and learning in agriculture, environment and applied life sciences which are available through the CABI Digital Library, as well as the Crop App Index which provides digital tools. that support plant production and plant health decision-making.
Director James said: "The conference reinforced my position on the steps the Virgin Islands needs to take to take agriculture to the next level. An important lesson from the conference is the importance of building the infrastructure needed to support the farming community.
Additionally, farmers have the opportunity for further improvement in the areas of selecting appropriate crops, improving planting schedules, developing pest and disease management plans, improving of their record-keeping abilities and creativity with value-added ideas.
Monday 26e In September, delegates attended a networking dinner hosted by Dr. Richard Shaw, Senior Regional Director, Caribbean and Central America. Two busy days followed with keynote speeches and panel discussions on a variety of topics, including:
Innovation to respond to the risks of climate change for plant health;
Increase the reach, application and impact of science in agriculture and the environment;
Improve food security and livelihoods of smallholder communities;
Reduce inequalities through better opportunities for rural women and youth;
How to safeguard biodiversity and support the sustainable use of natural resources.
Other items on the agenda included a report on the progress of CABI's mid-term strategy (2020 – 2022) and approval of the mid-term strategy for 2023 – 2025.
Ms Stoutt Igwe said the conference reinforced the need for the Department of Agriculture and Fisheries to be staffed with the technical officers needed to have greater impact in promoting food security and sustainability. She looks forward to partnering with Director James to share some of the knowledge and information gained with the team at the Department of Agriculture and Fisheries.
CABI is a not-for-profit, intergovernmental development and information organization that focuses primarily on agricultural and environmental issues in the developing world and on the creation, preservation and dissemination of scientific knowledge. With over 100 years of experience in agriculture and the environment, through its projects, CABI works in partnership with member countries, donors and partners to help farmers produce more and lose less, fight against threats to agriculture and the environment and to improve access to scientific information. .
Remarks:
Photo 1 of 4: Mrs. Stoutt Igwe and Director James during one of the conference sessions.
Photo 2 of 4: Ms. Stoutt Igwe and Director James meet with Mr. Naitram Ramnanan, Regional Representative and IAS Coordinator other members of the Caribbean delegation (Jamaica, Barbados, Montserrat and Trinidad).
Photo 3 of 4:PS Stoutt Igwe and director James present agricultural products from women farmers in Malaysia.
Photo 4 of 4: PS and director in discussion with one of the exhibitors.