Part of Mexico-born artist Laura Anderson Barbata's exhibition at the Newcomb Art Museum includes a very strange and disturbing excerpt from the history of New Orleans.
In 1834, a woman named Julia Pastrana was born in the state of Sinaloa, Mexico, with a genetic condition that caused thick hair to grow on all parts of her body, especially her face. According to Barbata, the governor of Sinaloa and a customs official apparently bought Pastrana as some kind of slave when she was a teenager. They pushed her to serve as a "living oddity," which ultimately performed for international audiences. She has been touted as the "Bear Woman," among other humiliating headlines.
Some of Pastrana's earliest appearances were in Louisiana, where she danced and sang in a Masonic Hall on St. Charles Avenue, among other places. At 26, Pastrana died in Moscow from complications in childbirth.
But that was not the end of his degrading "career". Pastrana's body was preserved and exhibited in various places until the 20th century. Ultimately, the woman's remains were kept out of public view in a museum in Oslo, Norway. This is where Barbata comes in.
Barbata is a costume designer. In the early 1990s, she concluded that not only were costumes as expressive an art form as oil painting or bronze sculpture, but that they were an international language. From the Amazon jungle to the islands of Trinidad and Tobago, to the bustling streets of Manhattan, Barbata searched for people who spoke the language of costumes, a language well known in New Orleans.
For Barbata, costumes aren't just for celebrations; they are also vehicles for social commentary. She periodically stages "interventions", which are small unexpected processions of clients. In 2011, Barbata and her cronies performed on Wall Street as monstrous millionaires in outrageously oversized business suits. They satirically shared the wealth by handing out chocolate coins.
Earlier this month, his troupe took to the streets of Manhattan's Baruch Houses neighborhood, dressed in head-turning abstract costumes, to show solidarity with residents of New York's largest public housing development, which, according to Barbata, is undergoing a disruptive renovation. Barbata and her group handed out heart-shaped candy lollipops, she said, "just to show a little love."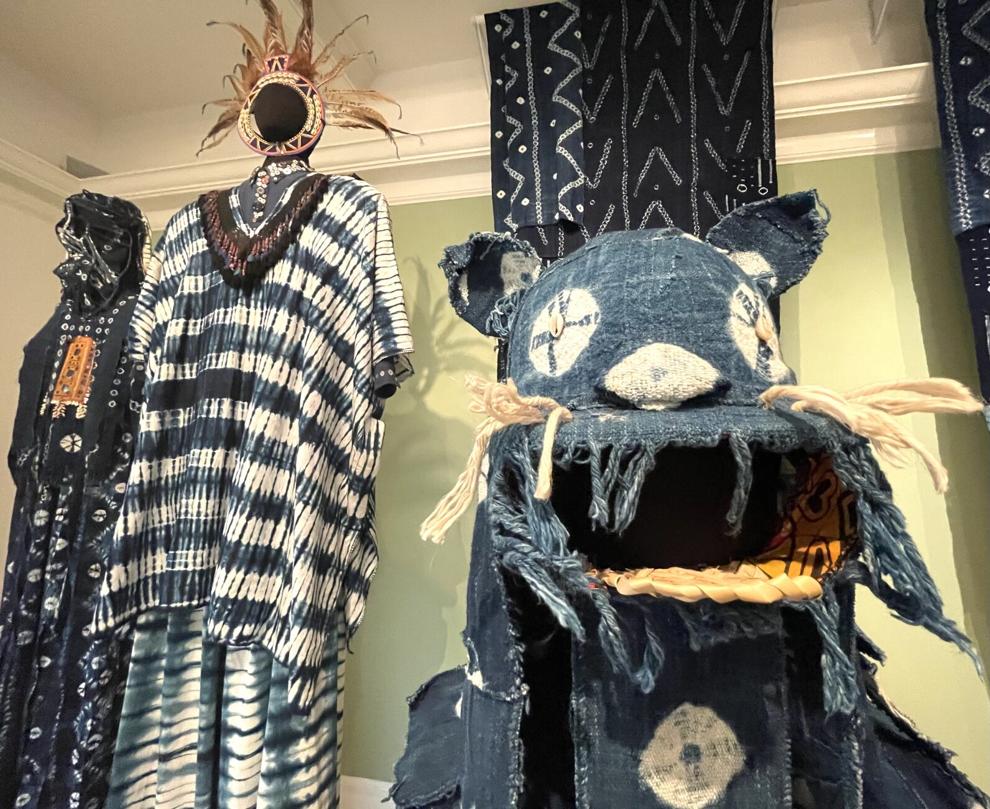 The most impressive part of the Newcomb exhibit is the collection of costumes from Barbata's "Indigo" performances which took place in 2015 in New York and Mexico City. The costumes, made from textiles and blue accessories, symbolize the police. Because many costumes were worn by waders, the large costumed figures imply the impending power that authorities have over ordinary people, especially people of color. Barbata's performances were intended as a commentary on subjugation and brutality.
Barbata's "police" costumes are notable as they predate the murder of George Floyd in 2020 by several years and the subsequent global street protests against police violence. But it is not simple megaphones that amplify a social evil; they are also wonderful multi-layered works of art. Notice the folk wolf-like headdresses worn by some of the "police". Notice the denim jaguar costume and the sheriff badge design in one of the costume skirts. And notice the strange and surreal mask made of blue roses worn by the "queen" of the cops.
Archer Pickering is 7 years old. He loves to swim, but hates taking baths. He loves music, especially catchy pop songs. He loves being outside …
Barbata said that as an artist she likes to think of herself as producing characters, not just costumes. Which brings us back to the "Bear Woman". Fairly or not, we are all defined in part by our appearance. But what if your appearance marked you as something you weren't? Julia Pastrana was not a bear, she was an ordinary young woman from the state of Sinaloa, just like Barbata.
One artist devours another, and other unreasonable views at the Good Children Gallery
In 2005, while Barbata was in Norway to learn about traditional costumes and culture, she learned that Pastrana's body lay in limbo in a museum in Oslo. She considered that the fate of her compatriot Sinaloan was inadmissible. Barbata embarked on a letter-writing campaign that ultimately led to the return of Pastrana's body to his homeland for a dignified and long-awaited burial in 2013.
In Newcomb's exhibition, titled "Transcommunality," Pastrana is represented by a costume made of thin strips of fabric that completely cover the body from scalp to toe, making it impossible to see the human inside.
The Newcomb Art Museum is located on the campus of Tulane University, near Willow Street and Audubon Boulevard. Hours of operation are Tuesday to Saturday, 10 a.m. to 4 p.m. Free entry. The show continues until October 2.
Street art murals are like sandcastles on the beach. No one expects them to last forever. Yet the New Orleans artists who began to paint a …
Cynthia Ramirez's exhibition titled "Space…" at the second-floor gallery features portraits of the main characters from the original 1960s "Star…"